Summary
Tribal conflict is a real time strategy game that takes place in a post apocalyptic environment. Where our civilisation has died out and our modern architecture have become ruins.


Its a game about tribes that are in conflicts with each other and battles with equipment from our times. the player uses his units finding resource points to get resources so he can buy new units. But it is also up to the player to defend the resources from the enemies.
Specification
School project: 10 weeks (half time)
Team: size 4 level designers, 7 Artists, 5 programmers 5 Technical artists
Contribution
Level design
Game design
Xml scripting
Sound effects
Game balancing
Level dressing
Level design
Before we started out with our top down designs we decided that the environments was going to be in some kind of city ruins. Then I started watch on real places with google earth searching for spaces i thought would be fun to play in this level. You can see a part of thames a river in London and some housing from Stockholm. Thames fits as a set piece in in the level I thought it would be cool to traverse and fight in a dehydrated river with stranded boats in it.

I chose to work in this way because i thought it was important to keep the metro network in the level so the ruins would have a natural place in the city.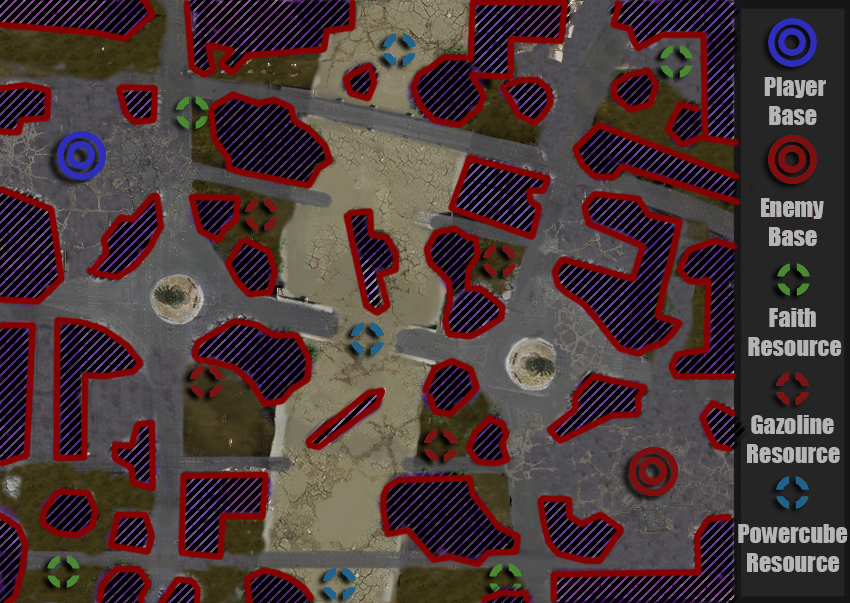 Conclusion
The real time strategy was a challenging but fun project and I learned much about height maps and to cooperate build, work, on a level together with another level designer.
Screeshots